My Friends And I Were Granted Three Wishes By A Cat Goddess And I Swear I Got Distracted When My Turn Came Around
A downloadable light novel
UPDATE: This light novel has a sequel!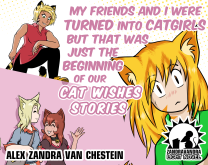 You can check it out right here!
Gods aren't exactly common, but there are a lot of them, it turns out. If a person sees a god, it usually means the latter is in trouble—the modern world has many mysteries the gods haven't completely figured out. But some charitable person is inevitably around to help out these flustered deities, who then invariably grant these kind souls a wish.

And if a lot of wishes are being granted at once, well, it's easy to lose track of what you want.
Cat Wishes is my second light novel, this time about a small group of friends, divine intervention, and the ups and downs of their day to day life as they adjust to some pretty dramatic changes. As always, it's full of personal growth, self-discovery, and a lot of gender feels.
Please enjoy, and let's keep making wonderful things together.
This is a light novel of 64 pages with 10 interior black & white illustrations.
Liked the light novel?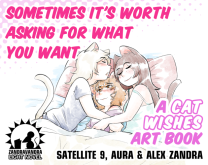 Check out the art book for never-before-seen art, author commentary, and a peek at where the characters are after the events of the story!
Purchase
In order to download this light novel you must purchase it at or above the minimum price of $5 USD. You will get access to the following files: