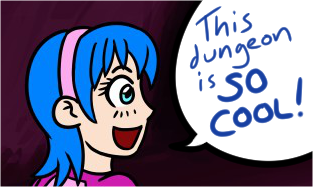 This Dungeon Is So Cool!
Your partner has become lost in a dungeon of the underworld! Go track them down with the power of POSITIVITY!
Tap/click on circles to make things happen - there's no way to lose, but there's lots to discover!
Made for the 2016 #selfcarejam. Music by Eden Porter (@fontiago).
Comments
Log in with itch.io to leave a comment.
I only get a black screen...
My only complaint is that you can't turn all the way into a cute mousiegirl.
I RELATE TO THIS A LOT but rest assured this is not the last interaction Blue has with mousedom