I Signed Up To Be The Substitute Familiar Of A Struggling Witch To Pay My Bills And I'm Just Now Realizing...
A downloadable light novel
THIS BOOK NOW HAS A SEMI-SEQUEL! 97 MORE PAGES OF QUEER WITCHES!
Three months, room and board, all outstanding bills taken care of. Complimentary magical aptitude. Absolutely no catch.
Becoming a witch takes a lot of hard work, and not everyone has the resources to devote themselves to such a grueling process. But thankfully, magic isn't completely unattainable! Witches need familiars in order to thrive, and sometimes the best candidate for the job is in the neighborhood instead of through a portal to the otherworld.
But what happens when you try on a new life and realize it fits you better than your old one? What do you do when it comes with an expiration date?
Substitute Familiar is the most worldbuilding-heavy light novel I've written yet, depicting a modern world with magic, demons, and folks trying to make it work. It's about getting the chance to try something you've wanted to do for a long time, and all the unforeseen consequences that come with it. It also has a lot of self-actualization, girls kissing girls, and gender feels, because that's what I do!
Please enjoy, and let's keep making wonderful things together.
This is a light novel of 96 pages with 11 interior black & white illustrations.
Want to get a sneak peek? Download the free demo to read the first two chapters!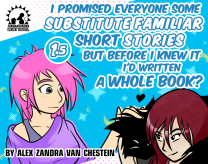 Want to read even more? Substitute Familiar Stories, the 1.5 semi-sequel featuring 25 short stories set before, during, and after this book, is available here!
Purchase
In order to download this light novel you must purchase it at or above the minimum price of $5 USD. You will get access to the following files:
Download demo